New Apple iPad Pro 11 and iPad Pro 12.9 come with the fastest mobile chipsets
If the new MacBook Air is the new MacBook, then the new iPad Pro is the new MacBook Air. Apple says it's more powerful than 92% of laptops out there and it's running the full-blown versions of Adobe Photoshop and Autodesk AutoCAD and, yes, it could easily transform into a laptop-like device with keyboard or even a desktop with an external monitor.
There's so much to cover, but we have to start with the new screens. With thinner bezels, Apple fit larger screen in the same body on the iPad Pro 11 and the same screen in a smaller body on iPad Pro 12.9.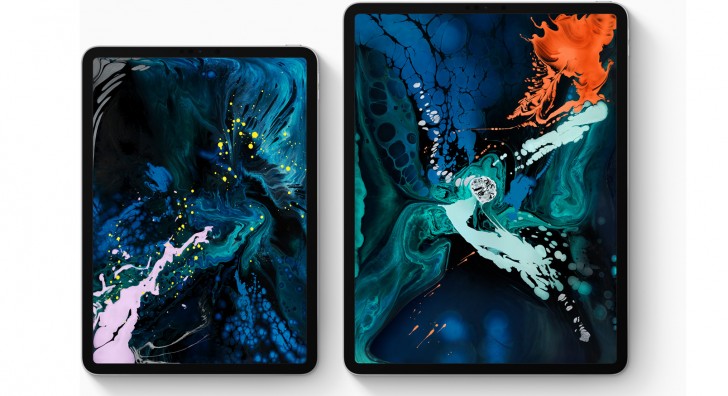 The new tablets are available in 11" and 12.9", in both cases with super-sharp Liquid Retina displays with rounded corners. As part of the slimming down of bezels, Apple dropped the Touch ID sensor in favor of Face ID. An added benefit is that the tablet now rotates its screen based on your face rather than relying on the sometimes unreliable accelerometer.
These are ProMotion displays to boot, meaning they render content at 120 fps and sense your fingers and the new Apple Pencil at 120Hz.
Speaking of the Pencil, it now attaches to the tablet with magnets and instantly begins charging wirelessly. No more plugging it into the Lightning port! Actually, no Lightning port at all.

The new Apple iPad Pros have a USB-C port, which works the same way it does on a MacBook. You can hook up an external monitor, a DSLR or even charge your phone with a USB-C to Lighting cable. See, just like a MacBook.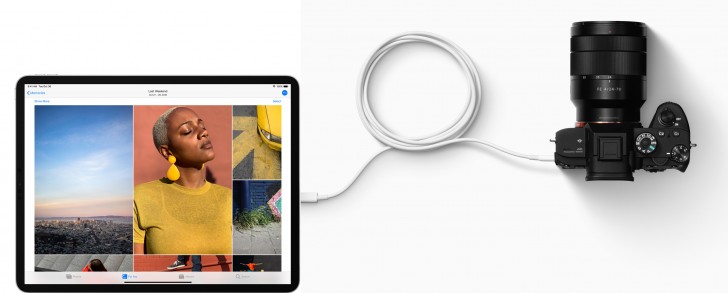 The new Apple A12X Bionic chipset is a proper beast and it can handle desktop tasks with ease. It still has an octa-core processor (4 big, 4 small), but now all eight cores can run at full throttle. The GPU has been upgraded to a 7-core design. Compared to previous iPad Pros, you get 35% faster single-core and 90% (!) faster multi-core performance.
The GPU performance? As fast as an Xbox One S! Seriously, Assassin's Creed Rebellion (now available on iPad, btw) ran at 120fps. Razer must be sweating under the collar.
The iPad Pro was also demoed handling an insane 3GB PSD file with 170 layers and 12,000 x 12,000px resolution – big enough to print on a huge poster. But why print when Adobe's Project Aero can turn it into an interactive AR presentation. Back to Photoshop, the UI may have been fully reimagined for touch (and Pencil control), but the engine is a port of the full desktop app. The Pencil now supports a double tap gesture that switches between tools in Photoshop and does whatever devs want it to in other apps.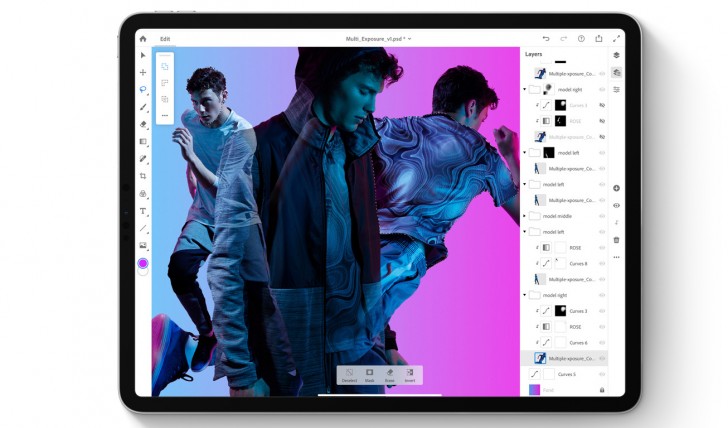 That 3GB file takes up plenty of storage, but thanks to a new memory controller chip, the Pros can have up to 1TB of fast storage. The base models still start at 64GB, though and upgrades aren't exactly cheap.
["source=gsmarena"]